Line 4:
Line 4:
 

Service 95 runs between Birmingham and Chelmsley Wood via Washwood Heath, Ward End, Shard End and Kingshurst.

 

Service 95 runs between Birmingham and Chelmsley Wood via Washwood Heath, Ward End, Shard End and Kingshurst.

 
 
 
+

[[File:NXWM_95.jpg|link=https://www.flickr.com/photos/127316282@N03/20241158536/|left]]

−

(pic 12)

 
 
 
−

The service is operated by National Express West Midlands (NXWM) and runs every 9 minutes Monday to Saturday daytimes, every 20 minutes on Sundays and half hourly evenings. The service is usually operated by Dennis Trident ALX400 or ADL Enviro400 double decker buses and is co-operated by NXWMs Birmingham Central and Perry Barr garages.

+

The service is operated by National Express West Midlands (NXWM) and runs every 9 minutes Monday to Saturday daytimes, every 20 minutes on Sundays and half hourly evenings. The service is usually operated by Dennis Trident ALX400 or ADL Enviro400 double decker buses and is co-operated by NXWMs Birmingham Central and Perry Barr garages.

 
 
−

An alternative bus route running between Birmingham and Shard end is service 53 which runs between Birmingham and Smith's Wood via Alum Rock, Heartlands Hospital, Stechford, Glebe Farm and Shard End. It is operated under tender to Transport for West Midlands by Thandi (Evergreen) Coaches and runs hourly Monday to Saturday daytimes.

+

An alternative bus route running between Birmingham and Shard end is service 53 which runs between Birmingham and Smith's Wood via Alum Rock, Heartlands Hospital, Stechford, Glebe Farm and Shard End. It is operated under tender to Transport for West Midlands by Thandi (Evergreen) Coaches and runs hourly Monday to Saturday daytimes.

 
 
−

Shard End and Kingshurst are additionally served by service 58, Solihull to Kingshurst (Fordbridge Road) via Olton, Yardley and Lea Hall (see also the 'Provision of bus routes in the Lyndon area of Olton' section of the Coventry Road bus corridor page) and Shard End by service 96, Chelmsley Wood to Erdington via the Fort Shopping Centre. Both services are operated by NXWM with service 96 running every 30 minutes (hourly evenings and Sundays) and service 58 running half hourly Mon-Sat mornings and hourly (north of Yardley) Mon-Sat afternoons.

+

Shard End and Kingshurst are additionally served by service 58, Solihull to Kingshurst (Fordbridge Road) via Olton, Yardley and Lea Hall (see also the 'Provision of bus routes in the Lyndon area of Olton' section of the Coventry Road bus corridor page) and Shard End by service 96, Chelmsley Wood to Erdington via the Fort Shopping Centre. Both services are operated by NXWM with service 96 running every 30 minutes (hourly evenings and Sundays) and service 58 running half hourly Mon-Sat mornings and hourly (north of Yardley) Mon-Sat afternoons.

 
 
 

==History==

 

==History==

Line 17:
Line 17:
 

(pic 1)

 

(pic 1)

 
 
−

In 1963 a short extension was made via Freasley Rd and Longmeadow Crescent to the latter's junction with Kitsland Road however that would be as far as the route would go as a Birmingham City Transport (BCT) service as, although the Kingshurst area was also developed during that decade, it lay over the city boundary in what was then Meridan District.

+

In 1963 a short extension was made via Freasley Rd and Longmeadow Crescent to the latter's junction with Kitsland Road however that would be as far as the route would go as a Birmingham City Transport (BCT) service as, although the Kingshurst area was also developed during that decade, it lay over the city boundary in what was then Meridan District.

 
 
−

In 1969 BCT was adopted into the new West Midlands Passenger Transport Executive, and following WMPTE's agreement to take over Midland Red services operating wholly within the about to be formed West Midlands County at the end of 1973, just 8 months later service 55 became the very first two-digit/ex-BCT service to be extended (just 500m mind) into what was now Solihull Metropolitan Borough when the terminus moved to Kingshurst's shopping centre on Over Green Drive.

+

In 1969 BCT was adopted into the new West Midlands Passenger Transport Executive, and following WMPTE's agreement to take over Midland Red services operating wholly within the about to be formed West Midlands County at the end of 1973, just 8 months later service 55 became the very first two-digit/ex-BCT service to be extended (just 500m mind) into what was now Solihull Metropolitan Borough when the terminus moved to Kingshurst's shopping centre on Over Green Drive.

 
 
 

(pic 2)

 

(pic 2)

Line 39:
Line 39:
 

(pic 5)

 

(pic 5)

 
 
−

A year before that, Travel Your Bus had commenced service 81Y which ran cross city past the City Hospital then as service 92 only direct onto Heath Way terminating initially on Shard End Crescent but from 1999, more usefully additionally serving York's Wood to terminate on Longmeadow Crescent. Running every 20 minutes Mon-Sat daytimes, the service provided a more frequent service to Kendrick Avenue, given the 92 had reduced from half hourly to hourly in 1996; and as the 92 continued to run via Castle Bromwich, a more direct service as well, with city-bound stops (for 3 of the 4 buses an hour serving the road) consequently returning to the original side of the road ten years after first switching. Shortly after the Kendrick Drive extension, the 81Y was renumbered 92Y and reduced to half hourly, however Travel Your Bus services to York's Wood turned out to be short lived as the first year of the new century saw the service withdrawn, although the 92 did return to half hourly to compensate (and in so doing reinstate the pre-1996 frequency to Safeway/Chester Rd shops).

+

A year before that, Travel Your Bus had commenced service 81Y which ran cross city past the City Hospital then as service 92 only direct onto Heath Way terminating initially on Shard End Crescent but from 1999, more usefully additionally serving York's Wood to terminate on Longmeadow Crescent. Running every 20 minutes Mon-Sat daytimes, the service provided a more frequent service to Kendrick Avenue, given the 92 had reduced from half hourly to hourly in 1996; and as the 92 continued to run via Castle Bromwich, a more direct service as well, with city-bound stops (for 3 of the 4 buses an hour serving the road) consequently returning to the original side of the road ten years after first switching. Shortly after the Kendrick Drive extension, the 81Y was renumbered 92Y and reduced to half hourly, however Travel Your Bus services to York's Wood turned out to be short lived as the first year of the new century saw the service withdrawn, although the 92 did return to half hourly to compensate (and in so doing reinstate the pre-1996 frequency to Safeway/Chester Rd shops).

 
 
 

In addition to the introduction of TYB services, 1997 also saw the introduction of local minibus service 693. This ran a one way figure-of-eight loop from Kingshurst around Castle Bromwich and Shard End every 12 minutes Mon-Sat daytimes. The previous year had also seen the 36 and 36A extentions combined into half hourly minibus service 626, won on tender by Serverse, running Stechford, Lea Hall, and a loop of Shard End to Gressel Lane (with the 36 from Sparkbrook reverting to terminate at Stechford), although by 1998 this was in turn replaced by an extension of minibus service 663 Erdington to Stechford via Nechells, Saltley and Heartlands Hospital to Lea Hall, and then a loop via Gressel Lane to Shard End, running hourly and won on tender by Pete's Travel. In 1999 the 663 briefly gained an evening and Sunday service, whilst the frequency of the 693 was reduced slightly to every 15 minutes.

 

In addition to the introduction of TYB services, 1997 also saw the introduction of local minibus service 693. This ran a one way figure-of-eight loop from Kingshurst around Castle Bromwich and Shard End every 12 minutes Mon-Sat daytimes. The previous year had also seen the 36 and 36A extentions combined into half hourly minibus service 626, won on tender by Serverse, running Stechford, Lea Hall, and a loop of Shard End to Gressel Lane (with the 36 from Sparkbrook reverting to terminate at Stechford), although by 1998 this was in turn replaced by an extension of minibus service 663 Erdington to Stechford via Nechells, Saltley and Heartlands Hospital to Lea Hall, and then a loop via Gressel Lane to Shard End, running hourly and won on tender by Pete's Travel. In 1999 the 663 briefly gained an evening and Sunday service, whilst the frequency of the 693 was reduced slightly to every 15 minutes.

Line 47:
Line 47:
 

(pic 6)

 

(pic 6)

 
 
−

After more than fifty years serving Alum Rock Road, the now Travel West Midlands service 55 was rerouted in 2004 to instead run via Washwood Heath (alongside service 94). The reasoning was increasing congestion on Alum Rock Road which  continued to be served by service 14 as well as Claribels who, for a time, reinstated the use of the X55 number. At the same time the 92 (in its *then* format) was withdrawn with York's Wood instead served Mon-Sat daytimes by an extension via Chipperfield Rd and Heathland Ave of service 26, City to Bromford Bridge. Running every 20 minutes the service continued via Chester Rd shops to Kingshurst and Fordbridge Rd. A revised 92, running the same as the short lived 92Y but with an additional extension as per the 26 route to Fordbridge Rd, continued to run hourly evenings and Sundays only.

+

After more than fifty years serving Alum Rock Road, the now Travel West Midlands service 55 was rerouted in 2004 to instead run via Washwood Heath (alongside service 94). The reasoning was increasing congestion on Alum Rock Road which  continued to be served by service 14 as well as Claribels who, for a time, reinstated the use of the X55 number. At the same time the 92 (in its then format) was withdrawn with York's Wood instead served Mon-Sat daytimes by an extension via Chipperfield Rd and Heathland Ave of service 26, City to Bromford Bridge. Running every 20 minutes the service continued via Chester Rd shops to Kingshurst and Fordbridge Rd. A revised 92, running the same as the short lived 92Y but with an additional extension as per the 26 route to Fordbridge Rd, continued to run hourly evenings and Sundays only.

 
 
 

Also in 2004, minibus service 693 was withdrawn. As part replacement, service 98 (Hay Mills to Sheldon) was renumbered 89 and diverted away from Buckland End to instead run from Bromford via Castle Bromwich and Shard End, then onto Glebe Farm. In March 2005, Pete's Travel, who continued to operate the 663, changed their name to People's Express, whilst Claribels 55 journeys had, within a year, joined TWM in running via Washwood Heath Rd as far as the Fox and Goose rather than using Alum Rock Rd. Toward the end of 2005, service 89 was curtailed to terminate at Chester Road Morrisons losing its Castle Bromwich, Bromford, Heartlands Hospital, Hay Mills section, whilst in the other direction there was a less draconian shortening from Sheldon to The Radleys. In early 2006 People's Express, operator of the 663 became Go-WM.

 

Also in 2004, minibus service 693 was withdrawn. As part replacement, service 98 (Hay Mills to Sheldon) was renumbered 89 and diverted away from Buckland End to instead run from Bromford via Castle Bromwich and Shard End, then onto Glebe Farm. In March 2005, Pete's Travel, who continued to operate the 663, changed their name to People's Express, whilst Claribels 55 journeys had, within a year, joined TWM in running via Washwood Heath Rd as far as the Fox and Goose rather than using Alum Rock Rd. Toward the end of 2005, service 89 was curtailed to terminate at Chester Road Morrisons losing its Castle Bromwich, Bromford, Heartlands Hospital, Hay Mills section, whilst in the other direction there was a less draconian shortening from Sheldon to The Radleys. In early 2006 People's Express, operator of the 663 became Go-WM.

Line 53:
Line 53:
 

The linking of Kingshurst as well as York's Wood with the now Morrisons Chester Rd supermarket was cemented in 2007 when half of all now TWM 55 journeys were renumbered 54. With the 26 reverting to a straight City to Bromford Bridge service, the 54 took on the Fordbridge Rd, Kingshurst, Chester Rd/ Hurst La route, then additionally along the full length of Longmeadow Crescent, before picking up Kendrick Ave, Pithall Rd and the southern half of Shard End Crescent. One further variation to the 54 was in serving Heath Way as far as the shopping parade, then Buckland End road back to Buckland Ends Lane. Both services ran every 15 mins Mon-Sat daytimes with the 55 also running every 30 mins evenings and Sundays. The hourly evenings and Sundays only 92 continued only now renumbered 56.

 

The linking of Kingshurst as well as York's Wood with the now Morrisons Chester Rd supermarket was cemented in 2007 when half of all now TWM 55 journeys were renumbered 54. With the 26 reverting to a straight City to Bromford Bridge service, the 54 took on the Fordbridge Rd, Kingshurst, Chester Rd/ Hurst La route, then additionally along the full length of Longmeadow Crescent, before picking up Kendrick Ave, Pithall Rd and the southern half of Shard End Crescent. One further variation to the 54 was in serving Heath Way as far as the shopping parade, then Buckland End road back to Buckland Ends Lane. Both services ran every 15 mins Mon-Sat daytimes with the 55 also running every 30 mins evenings and Sundays. The hourly evenings and Sundays only 92 continued only now renumbered 56.

 
 
−

In 2007 or 2008 service 89 was reduced to hourly minibus service 689 although it was extended back to Sheldon at one end and Castle Bromwich at the other, whilst service 663 was extended beyond Shard End via Hurst Lane to Smith's Wood (Lanchester Way). In March 2008 Go-WM became part of Rotala who switched service 663 to their Central Connect operation. Central Connect also won the tender to operate service 689 from the now NXWM in 2008 or 2009.

+

In 2007 or 2008 service 89 was reduced to hourly minibus service 689 although it was extended back to Sheldon at one end and Castle Bromwich at the other, whilst service 663 was extended beyond Shard End via Hurst Lane to Smith's Wood (Lanchester Way). In March 2008 Go-WM became part of Rotala who switched service 663 to their Central Connect operation. Central Connect also won the tender to operate service 689 from the now NXWM in 2008 or 2009.

 
 
 

(pics 7 & 8)

 

(pics 7 & 8)

Line 59:
Line 59:
 

For over 40 years until its closure in 1998 buses to Shard End were operated by Washwood Heath garage (at which point Lea Hall garage took on the services) and had mostly been double deck operated throughout, however toward the end of the noughties, cascaded single deck Mercedes O405's became common on the 54/55/56. Then in July 2010 Lea Hall garage itself closed and the routes were transferred to Birmingham Central for around 8 months until in March 2011 the 55 transfered again to the small single decker only Bordesley garage (until that in turn closed in 2020 with the route then transferring back to Birmingham Central and double deckers reintroduced).

 

For over 40 years until its closure in 1998 buses to Shard End were operated by Washwood Heath garage (at which point Lea Hall garage took on the services) and had mostly been double deck operated throughout, however toward the end of the noughties, cascaded single deck Mercedes O405's became common on the 54/55/56. Then in July 2010 Lea Hall garage itself closed and the routes were transferred to Birmingham Central for around 8 months until in March 2011 the 55 transfered again to the small single decker only Bordesley garage (until that in turn closed in 2020 with the route then transferring back to Birmingham Central and double deckers reintroduced).

 
 
−

March 2011 also saw the East Birmingham and North Solihull bus network review implemented which involved the discontinuation of the NXWM 54 and a near doubling to every 8 minutes Mon-Sat daytimes of the 55. Some sections of the 54 route were covered by alterations to the 55, namely Heath Way shops, the southern section of Shard End Crescent and most of Longmeadow Crescent. York's Wood Estate was served Mon-Sat daytime by new half hourly service 59 which ran to Birmingham via Lea Hall, Yardley and Small Heath. In the other direction Morrisons and Fordbridge Road continued to be served. The 56 remained unchanged serving Kendrick Avenue and Fordbridge Road hourly on evenings and Sundays. The 663 and 669 were renumbered 53 and 99 respectively, except that the half hourly 53 also took over the 689 route between Stechford and Hurst Lane North via Glebe Farm and Brownfield Lane, (thereby matching today's 53 between Heartlands Hospital and Smith's Wood), whilst the hourly 99 now terminated at Lea Hall (as well as being extended beyond Sheldon via Lyndon and Olton to Acocks Green). Rotala would rebrand their Central Connect operation to Blue Diamond at the end of 2011 and a year after that to just Diamond (they would eventually lose the contract to run service 99 to iGo in April 2015).

+

March 2011 also saw the East Birmingham and North Solihull bus network review implemented which involved the discontinuation of the NXWM 54 and a near doubling to every 8 minutes Mon-Sat daytimes of the 55. Some sections of the 54 route were covered by alterations to the 55, namely Heath Way shops, the southern section of Shard End Crescent and most of Longmeadow Crescent. York's Wood Estate was served Mon-Sat daytime by new half hourly service 59 which ran to Birmingham via Lea Hall, Yardley and Small Heath. In the other direction Morrisons and Fordbridge Road continued to be served. The 56 remained unchanged serving Kendrick Avenue and Fordbridge Road hourly on evenings and Sundays. The 663 and 669 were renumbered 53 and 99 respectively, except that the half hourly 53 also took over the 689 route between Stechford and Hurst Lane North via Glebe Farm and Brownfield Lane (thereby matching today's 53 between Heartlands Hospital and Smith's Wood), whilst the hourly 99 now terminated at Lea Hall (as well as being extended beyond Sheldon via Lyndon and Olton to Acocks Green). Rotala would rebrand their Central Connect operation to Blue Diamond at the end of 2011 and a year after that to just Diamond (they would eventually lose the contract to run service 99 to iGo in April 2015).

 
 
 

(pic 9)

 

(pic 9)

Line 75:
Line 75:
 

At the start of April 2019 the 99 service had been taken on by NXWM after the demise of iGo, before in September of that year it was replaced by commercially operated service 58 which additionally ran from Morrisons through to Fordbridge Road. In October 2019, service 53 became a city service rather than an inter-suburban one, losing its Saltley to Erdington section and instead matching the 55 route along Nechells Parkway into the city centre. Thandi (Evergreen) Coaches became the new operator taking over from Rotala Diamond.

 

At the start of April 2019 the 99 service had been taken on by NXWM after the demise of iGo, before in September of that year it was replaced by commercially operated service 58 which additionally ran from Morrisons through to Fordbridge Road. In October 2019, service 53 became a city service rather than an inter-suburban one, losing its Saltley to Erdington section and instead matching the 55 route along Nechells Parkway into the city centre. Thandi (Evergreen) Coaches became the new operator taking over from Rotala Diamond.

 
 
−

(pic 13)

+

(pic )

 
 
−

During the first Covid lock down in Spring 2020, Claribels permanently withdrew their service 55 journeys, before NXWM renumbered the route to 95 in August 2021. Also in August 2021 the route of service 96 Chelmsley Wood to Erdington via the Fort Shopping Centre was amended to run through Shard End mirroring service 53 between Smith's Wood and Buckland End.

+

During the first lock down in Spring 2020, Claribels permanently withdrew their service 55 journeys, before NXWM renumbered the route to 95 in August 2021. Also in August 2021 the route of service 96 Chelmsley Wood to Erdington via the Fort Shopping Centre was amended to run through Shard End mirroring service 53 between Smith's Wood and Buckland End.

 
 
 

==External links==

 

==External links==

Line 98:
Line 98:
 

*10 [https://www.flickr.com/photos/john-s-91/8613185127/ NXWM branded 55A]

 

*10 [https://www.flickr.com/photos/john-s-91/8613185127/ NXWM branded 55A]

 

*11 [https://www.flickr.com/photos/45726467@N02/12039657006/ Claribels 55]

 

*11 [https://www.flickr.com/photos/45726467@N02/12039657006/ Claribels 55]

−

*12 [http://wmbusphotos.com/NXWM/4225-4474/4447.html NXWM 55]

+

*12 [://.com/// ]

−

*13 [https://www.flickr.com/photos/145803459@N06/49243161171 Thandi (Evergreen) 53]

 
 
 
 

==='''Reference'''===

 

==='''Reference'''===
---
Revision as of 17:49, 17 September 2021
West Midlands bus route 95 (Service 95) is a bus route in Birmingham, United Kingdom
The Route
Service 95 runs between Birmingham and Chelmsley Wood via Washwood Heath, Ward End, Shard End and Kingshurst.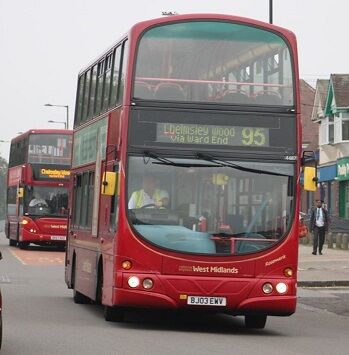 The service is operated by National Express West Midlands (NXWM) and runs every 9 minutes Monday to Saturday daytimes, every 20 minutes on Sundays and half hourly evenings. The service is usually operated by Dennis Trident ALX400 or ADL Enviro400 double decker buses and is co-operated by NXWMs Birmingham Central and Perry Barr garages.
An alternative bus route running between Birmingham and Shard end is service 53 which runs between Birmingham and Smith's Wood via Alum Rock, Heartlands Hospital, Stechford, Glebe Farm and Shard End. It is operated under tender to Transport for West Midlands by Thandi (Evergreen) Coaches and runs hourly Monday to Saturday daytimes.
Shard End and Kingshurst are additionally served by service 58, Solihull to Kingshurst (Fordbridge Road) via Olton, Yardley and Lea Hall (see also the 'Provision of bus routes in the Lyndon area of Olton' section of the Coventry Road bus corridor page) and Shard End by service 96, Chelmsley Wood to Erdington via the Fort Shopping Centre. Both services are operated by NXWM with service 96 running every 30 minutes (hourly evenings and Sundays) and service 58 running half hourly Mon-Sat mornings and hourly (north of Yardley) Mon-Sat afternoons.
History
Service 95 is the successor to service 55 which ran for over 70 years commencing in 1950 when it replaced the City to Alum Rock via Duddesden tram route plus additionally running through to Bucklands End Lane. Initially then, the route was only common with the current 95 route by serving Hodge Hill Road, however by the end of 1953 the service had been extended through an expanding Shard End to Hurst Lane all be it taking a more direct route through the estate than todays 95 route.
(pic 1)
In 1963 a short extension was made via Freasley Rd and Longmeadow Crescent to the latter's junction with Kitsland Road however that would be as far as the route would go as a Birmingham City Transport (BCT) service as, although the Kingshurst area was also developed during that decade, it lay over the city boundary in what was then Meridan District.
In 1969 BCT was adopted into the new West Midlands Passenger Transport Executive, and following WMPTE's agreement to take over Midland Red services operating wholly within the about to be formed West Midlands County at the end of 1973, just 8 months later service 55 became the very first two-digit/ex-BCT service to be extended (just 500m mind) into what was now Solihull Metropolitan Borough when the terminus moved to Kingshurst's shopping centre on Over Green Drive.
(pic 2)
In November 1980, following the development of the York's Wood Estate, every other Mon-Sat daytime 55 journey was numbered 56 (originally BCT's Washwood Heath Road service number until replaced by the 93 & 94 in 1975) with the new variant additionally serving Kendrick Avenue via the southern half of Shard End Crescent before terminating on Longmeadow Crescent, whilst the 55 journeys were further extended to Fordbridge Drive. As the latter was already served by service 93, in was deemed more useful from 1982 to divert 55 journeys to terminate at Chelmsley Wood Circle. At this time the frequency of each service was every 20 mins Mon-Fri daytime (increasing to every 8 minutes for morning inbound and afternoon outbound peaks) and every 12 minutes Sat daytimes. On evenings and Sundays just the 55 ran maintaining its 20 minute frequency.
Services 55 and 56 remained unchanged through deregulation until in 1989 the now West Midlands Travel operated service 56 was discontinued with York's Wood instead served by new Washwood Heath Rd / Coleshill Rd Mon-Sat daytime variant service 92 running from Chester Rd into Hurst La at the new Safeway (now Morrisons) store and onto Kendrick Dr (resulting in city-bound stops switching from one side of the road to the other).
(pic 3)
In late-1989/early 1990, minibuses came to east Birmingham in the form of service 662 which headed south from Shard End to Lea Hall and Sheldon, and service 661 which served Bromford, Buckland End, Glebe Farm and Lea Hall. These were joined in 1991 by service 601, operated by Stevensons, which ran from Shard End via Bromford to Erdington. The 661 & 662 (Lea Hall to Sheldon section) were successful enough to be combined into half-hourly standard bus route 98 in 1993, whilst Lea Hall to Shard End was covered by a variant of service 36 (Sparkbrook to Stechford) which had recently been extended during Mon-Sat shopping hours to Lea Hall. Hourly Shard End journeys were numbered 36A (whilst every other daytime journey served Gressel Lane). During 1994 the 98 was extended from Bromford to Hay Mills via Heartlands Hospital, whilst the shopping hours operation of service 601 was supplemented with peak hour journeys numbered as service 25, additionally extended to Chelmsley Wood via Gressel Lane, and which then replaced the minibus service completely the following year with a half hourly daytime standard bus service, still operated commercially by Stevensons.
In 1994 service 92 was extended down the full length of Heath Way to terminate adjacent to its own route earlier on the same journey along Coleshill Road. At this time the 55 ran every 12 minutes Mon-Sat daytimes (every 7/8 mins morning inbound and afternoon outbound peaks with every other journey a 55E to or from Hurst Lane), every 20 mins evenings and every 30 mins Sunday.
(pic 4)
The 55 had briefly seen competition from Tame Valley Travel in 1992 but it was 1994 that a more robust competition came to the 55 in the form of Claribels who would continue to compete on the service for 25 years. Shortly after commencing their every 20 min Mon-Sat daytime coach vehicle service, they adopted service number X55 which still duplicated the West Midlands Travel service other than gaining a few minutes by operating via Nechells Parkway rather than Duddeston (Vauxhall Road) causing WMT to follow suit (and as compensation, switch the 26 Bromford Bridge service off Nechells Parkway to Vauxhall Road). Claribels dropped the X prefix from their services in 1998.
(pic 5)
A year before that, Travel Your Bus had commenced service 81Y which ran cross city past the City Hospital then as service 92 only direct onto Heath Way terminating initially on Shard End Crescent but from 1999, more usefully additionally serving York's Wood to terminate on Longmeadow Crescent. Running every 20 minutes Mon-Sat daytimes, the service provided a more frequent service to Kendrick Avenue, given the 92 had reduced from half hourly to hourly in 1996; and as the 92 continued to run via Castle Bromwich, a more direct service as well, with city-bound stops (for 3 of the 4 buses an hour serving the road) consequently returning to the original side of the road ten years after first switching. Shortly after the Kendrick Drive extension, the 81Y was renumbered 92Y and reduced to half hourly, however Travel Your Bus services to York's Wood turned out to be short lived as the first year of the new century saw the service withdrawn, although the 92 did return to half hourly to compensate (and in so doing reinstate the pre-1996 frequency to Safeway/Chester Rd shops).
In addition to the introduction of TYB services, 1997 also saw the introduction of local minibus service 693. This ran a one way figure-of-eight loop from Kingshurst around Castle Bromwich and Shard End every 12 minutes Mon-Sat daytimes. The previous year had also seen the 36 and 36A extentions combined into half hourly minibus service 626, won on tender by Serverse, running Stechford, Lea Hall, and a loop of Shard End to Gressel Lane (with the 36 from Sparkbrook reverting to terminate at Stechford), although by 1998 this was in turn replaced by an extension of minibus service 663 Erdington to Stechford via Nechells, Saltley and Heartlands Hospital to Lea Hall, and then a loop via Gressel Lane to Shard End, running hourly and won on tender by Pete's Travel. In 1999 the 663 briefly gained an evening and Sunday service, whilst the frequency of the 693 was reduced slightly to every 15 minutes.
Stevensons had doubled the frequency of their Erdington to Shard End service during 1997, although it no longer served Gressel Lane and Chelmsley Wood. Instead, after Bromford, it ran via a loop of Castle Bromwich and Shard End as service 24 or the other way as service 25. This didn't last however with Stevensons withdrawing from the route in 1998. A replacement hourly tendered service ran from Erdington but which now terminated at the Hunter's Moon PH. The 693 minibus was changed in 2000 to just provide a link between Castle Bromwich and Shard End (no longer serving Kingshurst and Fordbridge Road) every 20 minutes.
(pic 6)
After more than fifty years serving Alum Rock Road, the now Travel West Midlands service 55 was rerouted in 2004 to instead run via Washwood Heath (alongside service 94). The reasoning was increasing congestion on Alum Rock Road which  continued to be served by service 14 as well as Claribels who, for a time, reinstated the use of the X55 number. At the same time the 92 (in its then format) was withdrawn with York's Wood instead served Mon-Sat daytimes by an extension via Chipperfield Rd and Heathland Ave of service 26, City to Bromford Bridge. Running every 20 minutes the service continued via Chester Rd shops to Kingshurst and Fordbridge Rd. A revised 92, running the same as the short lived 92Y but with an additional extension as per the 26 route to Fordbridge Rd, continued to run hourly evenings and Sundays only.
Also in 2004, minibus service 693 was withdrawn. As part replacement, service 98 (Hay Mills to Sheldon) was renumbered 89 and diverted away from Buckland End to instead run from Bromford via Castle Bromwich and Shard End, then onto Glebe Farm. In March 2005, Pete's Travel, who continued to operate the 663, changed their name to People's Express, whilst Claribels 55 journeys had, within a year, joined TWM in running via Washwood Heath Rd as far as the Fox and Goose rather than using Alum Rock Rd. Toward the end of 2005, service 89 was curtailed to terminate at Chester Road Morrisons losing its Castle Bromwich, Bromford, Heartlands Hospital, Hay Mills section, whilst in the other direction there was a less draconian shortening from Sheldon to The Radleys. In early 2006 People's Express, operator of the 663 became Go-WM.
The linking of Kingshurst as well as York's Wood with the now Morrisons Chester Rd supermarket was cemented in 2007 when half of all now TWM 55 journeys were renumbered 54. With the 26 reverting to a straight City to Bromford Bridge service, the 54 took on the Fordbridge Rd, Kingshurst, Chester Rd/ Hurst La route, then additionally along the full length of Longmeadow Crescent, before picking up Kendrick Ave, Pithall Rd and the southern half of Shard End Crescent. One further variation to the 54 was in serving Heath Way as far as the shopping parade, then Buckland End road back to Buckland Ends Lane. Both services ran every 15 mins Mon-Sat daytimes with the 55 also running every 30 mins evenings and Sundays. The hourly evenings and Sundays only 92 continued only now renumbered 56.
In 2007 or 2008 service 89 was reduced to hourly minibus service 689 although it was extended back to Sheldon at one end and Castle Bromwich at the other, whilst service 663 was extended beyond Shard End via Hurst Lane to Smith's Wood (Lanchester Way). In March 2008 Go-WM became part of Rotala who switched service 663 to their Central Connect operation. Central Connect also won the tender to operate service 689 from the now NXWM in 2008 or 2009.
(pics 7 & 8)
For over 40 years until its closure in 1998 buses to Shard End were operated by Washwood Heath garage (at which point Lea Hall garage took on the services) and had mostly been double deck operated throughout, however toward the end of the noughties, cascaded single deck Mercedes O405's became common on the 54/55/56. Then in July 2010 Lea Hall garage itself closed and the routes were transferred to Birmingham Central for around 8 months until in March 2011 the 55 transfered again to the small single decker only Bordesley garage (until that in turn closed in 2020 with the route then transferring back to Birmingham Central and double deckers reintroduced).
March 2011 also saw the East Birmingham and North Solihull bus network review implemented which involved the discontinuation of the NXWM 54 and a near doubling to every 8 minutes Mon-Sat daytimes of the 55. Some sections of the 54 route were covered by alterations to the 55, namely Heath Way shops, the southern section of Shard End Crescent and most of Longmeadow Crescent. York's Wood Estate was served Mon-Sat daytime by new half hourly service 59 which ran to Birmingham via Lea Hall, Yardley and Small Heath. In the other direction Morrisons and Fordbridge Road continued to be served. The 56 remained unchanged serving Kendrick Avenue and Fordbridge Road hourly on evenings and Sundays. The 663 and 669 were renumbered 53 and 99 respectively, except that the half hourly 53 also took over the 689 route between Stechford and Hurst Lane North via Glebe Farm and Brownfield Lane (thereby matching today's 53 between Heartlands Hospital and Smith's Wood), whilst the hourly 99 now terminated at Lea Hall (as well as being extended beyond Sheldon via Lyndon and Olton to Acocks Green). Rotala would rebrand their Central Connect operation to Blue Diamond at the end of 2011 and a year after that to just Diamond (they would eventually lose the contract to run service 99 to iGo in April 2015).
(pic 9)
In Autumn 2012 the NXWM 55 was split in order to provide a York's Wood variant for the third time in its history. This time the Kendrick Avenue Mon-Sat daytime journeys were numbered 55A and also used the shorter southern section of Longmeadow Crescent to access Kinghurst. Otherwise the two routes were identical, terminating at Chelmsley Wood, with each running every 15 minutes. Again the 56 remained unchanged, as did the the 59.
(pic 10)
In June 2017, the 55 was once again consolidated, for the first time adopting the York's Wood Kendrick Avenue route (except Claribels journeys which didn't for the time being), then, unlike the discontinued 55A, still serving the northern section of Longmeadow Crescent. With the 56 also discontinued, this latest 55 service ran every 8 minutes Mon-Fri daytimes, every 10 minutes Sat daytime, every 20 minutes Sun daytimes and every 30 minutes evenings. It may only be one stop from Longmeadow Crescent/Hurst Lane to Morrisons but perhaps still a walk to be avoided carrying bags of heavy shopping, so with the 59 also discontinued, iGo extended their hourly 99 service along Lea Ford Road and Packington Avenue to the end of Hurst Lane.
(pic 11)
During the first half of 2019 Claribels withdrew their 55 operation, then at the start of June 2019 a final change occurred to NXWM service 55 when, due to congestion on Stechford Lane (ie the short section of the Outer Circle route used since the diversion away from Alum Rock), the route instead continued on Coleshill Road as far as the Hunter's Moon PH then the northern/eastern (rather than the southern/western) section of Stechford Road to reach Hodge Hill Road, although the reinstated Claribels journeys did not follow suit.
At the start of April 2019 the 99 service had been taken on by NXWM after the demise of iGo, before in September of that year it was replaced by commercially operated service 58 which additionally ran from Morrisons through to Fordbridge Road. In October 2019, service 53 became a city service rather than an inter-suburban one, losing its Saltley to Erdington section and instead matching the 55 route along Nechells Parkway into the city centre. Thandi (Evergreen) Coaches became the new operator taking over from Rotala Diamond.
(pic 12)
During the first Coronavirus lock down in Spring 2020, Claribels permanently withdrew their service 55 journeys, before NXWM renumbered the route to 95 in August 2021. Also in August 2021 the route of service 96 Chelmsley Wood to Erdington via the Fort Shopping Centre was amended to run through Shard End mirroring service 53 between Smith's Wood and Buckland End.
External links
Photos
Reference