Stagecoach Group plc
File:StagecoachLogo.gif

Type

Public

(

Template:Lse

)
Founded

1980

Headquarters

Template:Flagicon

Perth

,

Scotland

,

UK

Area served

British Isles

and

North America

Key people

Brian Souter

, CEO of Stagecoach Group
Robert Speirs, Chairman of Stagecoach Group


Ann Gloag

, Founder of Stagecoach Bus


Robin Gloag

, Co-founder of Stagecoach Bus

Industry

Public Transport

Products

Bus,

Train

,

Tram

and

Ferry

services

Revenue

Template:Profit

£277.3 million

GBP


(8.9%

FY

2007)[1]

Operating income

Template:Profit

£180.9 million

GBP


(

FY

2007)[1]

Net income

Template:Loss

£125.2 million

GBP


(

FY

2007)[2]

Employees

27,000

Subsidiaries

Stagecoach UK Bus
Coach USA

Website

stagecoachgroup.com
Stagecoach Group plc (Template:Lse) is a leading international transport group operating bus, train, tram, express coach and ferry operations. The group was founded in 1980 by the current chairman, Brian Souter,[3] his sister, Ann Gloag, and her now ex-husband Robin Gloag. The group is based in Perth, Scotland, and has operations in the United Kingdom and North America.
With 16% of the bus market and 25% of the rail market, including its 49% stake in Virgin Trains, as well as being the largest operator of light rail services the company is the second largest transport firm in the United Kingdom close behind its nearest rival First Group. Stagecoach operates over 7,200 vehicles and covers over 90 major towns and cities in Great Britain, carrying around 2.5 million passengers daily. Stagecoach UK Bus employs 18,000 people.
The company is listed on the London Stock Exchange, where it is a constituent of the FTSE 250 Index.
History
[
]
Stagecoach was born of deregulation in the British express coach market in the early 1980s, though its roots can be traced back to 1976 when Ann Gloag and her husband Robin Gloag set up a small motor caravan and minibus hire business called Gloagtrotter. Ann's accountant brother Brian Souter joined the firm and expanded the business into bus hire. Robin Gloag subsequently sold his shareholding in the business and ceased any involvement in 1982 with the collapse of his marriage to Ann. The Transport Act 1980, which freed express services of 35 miles and over from regulation by the Traffic Commissioner, brought new opportunities for the Perth-based company and services were launched from Dundee to London using second-hand Neoplan coaches. For a while, they offered a very personal service with Brian Souter doing the driving and Ann Gloag making up sandwiches and snacks for the passengers. Successfully competing against the then state-owned National Express and Scottish Citylink, the company grew significantly between 1981 and 1985, when Stagecoach entered local bus operation with the acquisition of McLennan Of Spittalfield, near Perth. Its early success allowed Stagecoach to take advantage of the privatisation of the national bus groups. Several firms were purchased from the National Bus Company, Scottish Bus Group, London Buses and various city councils. The company consolidated its operations during the 1990s by purchasing management and employee owned bus companies, often ex-NBC and SBG firms where the owners were keen to make a huge profit on their sale. Stagecoach left the long distance express coach market in 1988 when it sold its operations to National Express.
In 1996 Porterbrook was sold as in a management-employee buyout and subsequently bought by Stagecoach. Porterbrook is one of the three major Rolling Stock Companies in the United Kingdom which was created in 1994 as part of the privatisation of British Rail, it owns around a third of passenger railway locomotives, multiple units and coaching stock running on Network Rail's system which it leases to various train operators. In April 2000 Abbey National bought Porterbrook from Stagecoach for £773 million.
Stagecoach took another turn in 1998, when it purchased, for £41 million, Scotland's Prestwick Airport. This acquisition looked to be short-lived, however; by the summer of 1999, the company was rumored to have been offered some £80 million for Prestwick. They did however, hold out until January 2001 before selling the airport to concentrate on ground transportation.
A Stagecoach London vehicle, operating London Buses route 30, was destroyed in the 7 July 2005 London bombings and a second was targeted 21 July 2005 London bombings, operating London Buses route 26. Coincidentally, both buses were bound for Hackney. In a tribute to those who lost their lives in the attack, Stagecoach London dedicated a new Alexander Dennis Enviro 400, "The Spirit Of London", to London Buses route 30, replacing the vehicle destroyed. The bus was unveiled by the Mayor of London in a ceremony on 3 October 2005.[4]
On 21 November 2005 Stagecoach announced the sale of its New Zealand operations to Infratil for $250.5m NZD (£100m; US$171.6m).[5]
On the 14 December 2005 Stagecoach purchased Barnsley-based Traction Group (Yorkshire Traction) for £26m, and also assume Traction's £11m debt. Traction operated 840 buses in South and West Yorkshire (Yorkshire Traction, Barnsley & District, Yorkshire Terrier), Lincolnshire (RoadCar) and Angus (Strathtay Scottish). Traction was the largest of the remaining privately owned bus operators in the UK before acquisition.
Following the sale of its London bus operations to Macquarie Bank in 2006, Stagecoach UK Bus concentrated on the bus market outside the UK capital, focusing on organic growth and exploring acquisition options.
In September 2005, following competition with its Megabus coach operation, Stagecoach launched a joint venture with Scottish Citylink coaches. After a competition enquiry, in October 2006 Stagecoach was instructed to sell some of the Scottish coach services.[6]
Stagecoach are also active in the rail industry, currently operating the South West Trains franchise (extended for another 10 years from February 2007) and having a 49% stake in Virgin Trains. The group has recently won the right to take over the Central Trains and Midland Mainline franchises creating East Midlands Trains.[7]
In November 2006, Stagecoach was shortlisted to submit a final bid to operate the Manchester Metrolink tram network. On 2007-04-03 it was announced that the group was the preferred bidders for the tram and infrastructure maintenance and operation after Serco ends it's service during 2007. As of May 30 Stagecoach Group have signed the contract which started in July 2007.[8] The group already operates Sheffield Supertram on a 27-year concession due to expire in 2024.
Group Structure
[
]
Key people
[
]
Stagecoach Group plc is listed on the London Stock Exchange, though company Chairman Brian Souter and his sister Ann Gloag are major shareholders. Despite being co-founder of Stagecoach, Ms Gloag no longer has an executive role in the company.
Souter and Gloag's involvement in bus manufacturer Alexander Dennis (the former Transbus International), and Souter's stake in ScotAirways, are not related to the Stagecoach Group in any way.
Structure
[
]
Group Structure (from 11th November 2007)[9]
Template:Familytree/start Template:Familytree Template:Familytree Template:Familytree Template:Familytree Template:Familytree Template:Familytree Template:Familytree Template:Familytree Template:Familytree Template:Familytree Template:Familytree Template:Familytree Template:Familytree Template:Familytree/end
UK operating companies
[
]
The following is a breakdown of the Stagecoach operating divisions. The centre of each operating region is shown in parentheses. Legal company names are listed alongside the trading names for that company.
Bus Division
[
]
Stagecoach Cambridgeshire - Stagecoach controls operations in the county of

Cambridgeshire

through Stagecoach Cambridgeshire. Comprising Cambus Ltd. and Viscount Bus & Coach Company Ltd. (demerged from Cambus earlier). Cambus was demerged from the

Eastern Counties Omnibus Company

in 1984. Trading names include Stagecoach in

Cambridge

and Stagecoach in

Peterborough

. Headquarters for this group are located in Cambridge.
Stagecoach Cooks Coaches - Stagecoach controls tendered operations in the Somerset and Devon areas through Stagecoach Cooks Coaches. This is managed as an entirely separate entity within the Stagecoach UK Bus, and buses do not feature Stagecoach corporate livery. Headquarters for this group are located in

Wellington

.
Stagecoach Devon - Stagecoach controls operations in Devon through Stagecoach Devon. Comprising Devon General Ltd and Torbay Bayline Ltd. The trading name of these operations is Stagecoach in Devon. Heaquarters for this group are located in

Exeter

.
Stagecoach East - Stagecoach controls operations in the East of England through Stagecoach East. This operation includes

United Counties Omnibus Company Ltd

. Trading names include Stagecoach in Northants and Stagecoach in Bedford. Heaquarters for this group are located in

Northampton

.
Stagecoach East Midlands - Stagecoach controls operations in the East Midlands area through Stagecoach East Midlands. Comprising Lincolnshire RoadCar Co Ltd, Grimsby-Cleethorpes Transport Ltd, Cleveland Transit Ltd and East Midland Motor Services Ltd. Trading names include Stagecoach in Bassetlaw, Stagecoach in Mansfield, Stagecoach in South Yorkshire, Stagecoach Grimsby-Cleethorpes, Stagecoach in Hull and Stagecoach in Lincolnshire. Heaquarters for this group are located in

Lincoln
Stagecoach East Scotland - Stagecoach controls operations in the east of Scotland through Stagecoach East Scotland. Comprising Fife Scottish Omnibuses Ltd, AA Buses Ltd, Bluebird Buses Ltd, JW Coaches Ltd and Strathtay Scottish Omnibuses Ltd. Trading names include Stagecoach in Perth, Stagecoach Bluebird, Stagecoach in Inverness, Stagecoach in Fife and Strathtay. It also operates the new Forth Fast hovercraft service from Kirkcaldy to Portobello. Heaquarters for this group are located in

Cowdenbeath
Stagecoach London - Stagecoach purchased the East London and Selkent divisions of London Buses when they were privatised in 1994. Both operate tendered services for Transport for London. Deciding to focus on organic growth for its UK bus operations, and citing the inflexibility of the London tendering system, the London bus operations were sold to

Macquarie Group

on 31 August 2006 for £263.6m. Macquarie continued to use the Stagecoach brand for a limited period under licence, and Stagecoach provided administrative and other support functions for a transitional period of 12 months from the sale. Macquarie rebranded both into their original East London and Selkent identities, albeit updated. In October 2010 Stagecoach reacquired its old London operations from Macquarie Bank for £59.5m with both operations once again rebranded as Stagecoach.[10]
Stagecoach North East - Stagecoach controls operations in the north east of England through Stagecoach North East. Comprising of Busways Travel Services Ltd and Cleveland Transit Ltd. Trading names include Stagecoach on Teesside, Stagecoach in Hartlepool, Stagecoach in Newcastle, Stagecoach in South Shields and Stagecoach in Sunderland. Heaquarters for this group are located in

Sunderland

.
Stagecoach North West - Stagecoach controls operations in the north west of England through Stagecoach North West. Comprising of Cumberland Motor Services Ltd and Ribble Motor Services Ltd. Trading names include Stagecoach in Cumbria, Stagecoach in Lancaster and Stagecoach in

Lancashire

. Heaquarters for this group are located in

Carlisle

.
Stagecoach in Manchester

- Stagecoach controls operations in Greater Manchester through Stagecoach Manchester. Comprising of Greater Manchester Buses (South) Ltd. Trading names include Stagecoach in Manchester and Magicbus. Heaquarters for this group are located in

Manchester

.
Stagecoach Merseyside - Stagecoach controls operations in the Merseyside and Liverpool areas through Stagecoach Merseyside. Legal names of the group comprise of Glenvale Transport Ltd. The only trading name for this operation is Stagecoach in Merseyside. Heaquarters for this group are located in

Liverpool

.
Stagecoach Sheffield - Stagecoach controls bus and tram operations in the Sheffield area of England through Stagecoach Sheffield. Comprising of Yorkshire Terrier, South Yorkshire Supertram Ltd and Andrews (Sheffield) Ltd. Trading names include Stagecoach in Sheffield and Stagecoach Supertram. Heaquarters for this group are located in

Sheffield

.
Stagecoach South East - Stagecoach controls operations in the South East of England through Stagecoach South East. Comprising of East Kent Road Car Company Ltd, Southdown Motor Services Ltd, Hastings & District Transport Ltd and Stagecoach (South) Ltd. Trading names include Stagecoach in East Sussex, Stagecoach in Hastings, Stagecoach in Hants and Surrey, Stagecoach in Hampshire, Stagecoach in East Kent, Stagecoach in Portsmouth and Stagecoach in the South Downs. Heaquarters for this group are located in

Chichester

.
Stagecoach Oxfordshire - Stagecoach controls operations in Oxfordshire area through Stagecoach in Oxfordshire. Comprising of Thames Transit Ltd and Midland Red (South) Ltd. Trading names include Stagecoach in Oxfordshire, Brookesbus and Oxford Tube. Heaquarters for this group are located in

Oxford

.
Stagecoach Wales or Stagecoach de Cymru / South Wales - Stagecoach controls operations in Wales through Stagecoach Wales. Comprising of Red & White Services Ltd, The Valleys Bus Co Ltd, Aberdare Bus Co Ltd, Rhondda Buses Ltd, Parfitts Motor Services Ltd, Eastern Valley Bus Co Ltd and Crosskeys Coach Hire Ltd. The trading name for these operations is Stagecoach in South Wales and Stagecoach de Cymru. Heaquarters for this group are located in

Cwmbran

.
Stagecoach in Warwickshire - Stagecoach controls operations in Warwickshire area through Stagecoach in Warwickshire. Comprising of Midland Red (South) Ltd. Trading names include Stagecoach in Warwickshire, Goldine. Heaquarters for this group are located in

Rugby

.
Stagecoach West - Stagecoach controls operations in the West of England through Stagecoach West. Comprising of Cheltenham District Traction Company Ltd, Swindon & District Bus Company Ltd and Cheltenham & Gloucester Omnibus Company Ltd. Trading names include Stagecoach in Cheltenham, Stagecoach in Swindon, Stagecoach in Gloucester, Stagecoach in the Cotswolds, Stagecoach in the Wye and Dean. Heaquarters for this group are located in

Gloucester

.
Stagecoach West Scotland - Stagecoach controls operations in the west of Scotland through Stagecoach West Scotland. Comprising of Western Buses Ltd and Stagecoach Glasgow Ltd. Trading names include Stagecoach Western, Stagecoach A1 Service, Stagecoach in Glasgow. Heaquarters for this group are located in

Ayr

.
Stagecoach Yorkshire - Stagecoach controls operations in the Yorkshire area through Stagecoach Yorkshire. Comprising of Yorkshire Traction Co Ltd, Chesterfield Transport Ltd and Barnsley & District Traction Co Ltd. Trading names include Stagecoach in Yorkshire and Stagecoach in Chesterfield. Heaquarters for this group are located in

Barnsley

.
Brands
[
]
Aside from the ordinary bus operation identity, and the no-frills services, the UK bus division has the following brands that extend across operating divisions.
Stagecoach Express - an express coach service that operates mainly between towns and cities where Stagecoach operate (e.g.

Sheffield

to

Chesterfield

) It tends not to compete with National Express like Megabus, and in some cases tickets are available through the National Express website.
Oxford Tube - an express coach service offering high frequency 24 hour services to London, operated by Stagecoach Oxfordshire, in competition with Oxford Bus Company's Espress service.
Citi - some urban networks have received Citi branding, such as Cambridge and Preston.
Rail Division
[
]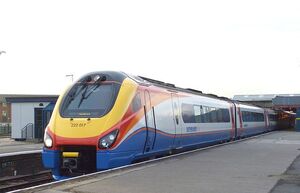 South West Trains - Operations in the rail industry includes their long-running contract to run the South West franchise, named South West Trains (South West Trains Ltd London). They have run this since the privatisation of British Rail, and have faced tough bids to run it from First Group, National Express Group and

Arriva plc

but have managed to keep it for another 10 years until

2017

.[11]
Island Line - Island Line, the rail system for the Isle of Wight, has also been operated by Stagecoach since privatisation and was merged into the South West franchise in

2007

.[12] By

2016

, the time the next South West franchise is due to end, the rolling stock will be over 80 years old.
Virgin Trains - In addition, the group has a 49% stake in Virgin Trains, which operate fast intercity train services in the

United Kingdom

. They currently own the West Coast Main Line franchise, and formerly owned the Cross Country franchise, but due to the recent midland resuffle they lost Cross Country to Arriva. The West Coast franchise is due to end by

2012

.
Light Rail Division
[
]
No-frills brands
[
]
Stagecoach operate a number of so-called "no-frills" services across the United Kingdom and the United States. Applying the business model of the low-cost carrier air lines, these services aim to offer cheaper alternatives to the established operators in the bus, coach and rail markets, by reducing costs, and offering extremely low fares for the earliest bookings, rising nearer the journey time. This has caused many other companies to lower their price, most notably National Express.
Megabus
[
]
Megabus is a low cost, "no-frills" intercity bus service launched in the UK by Stagecoach in 2003 and, 10 April 2006, in the United States. Its main rival in the UK is National Express, who have had to lower their prices to compete with Megabus. Megabus has an expanding network covering all areas of the UK, although some routes offer only one journey per day. Originally operated using high capacity but older coach seated buses, most services are now operated with new modern single or double deck coaches. In the UK, to cut costs services use on-street bus stops rather than pay for access to coach stations. Also, journeys must be pre-booked via the web-site or certain bus stations, tickets are not available from the driver.
Megatrain
[
]
On 14 November 2005, the Megabus concept was extended to certain rail services, with the introduction of Megatrain between London and Southampton, and London and Portsmouth, using a dedicated carriage on selected South West Trains services. It has since been extended to some Virgin Trains services, and is to be extended to services on the East Midlands Trains franchise.
Magicbus
[
]
Magicbus was the first no-frills brand of Stagecoach. It was first used in red lettering on ex London Routemasters, otherwise painted in Stagecoach stripes, in competition in Glasgow. Later, an allover blue with yellow lettering was adopted, on older service buses with simple fares and no travel passes, usually operated on routes with strong competition from other operators, most notably on the Manchester Picadilly to East Didsbury (Oxford Road corridor) route in Greater Manchester, but also in Newcastle upon Tyne and East Scotland (as Magic Mini). It now only remains in use in Manchester.
Scottish Citylink Coaches
[
]
Template:Further On 13 September 2005 Stagecoach and ComfortDelGro announced a joint venture in the provision of express coach services in Scotland, ending intense competition between ComfortDelGro's subsidiary Scottish Citylink and Stagecoach subsidiaries Megabus and Motorvator. Under the terms of the joint venture, the Stagecoach Group will acquire a 35% stake in Scottish Citylink Coaches Ltd, with Citylink assuming certain rights to the Megabus and Motorvator brands in Scotland.[17] Megabus operations in the rest of the UK are excluded from this agreement. Despite being a minority shareholder, Stageocoach appears to have assumed all but full control. Stagecoach staff have replaced much of the former Citylink management, while Stagecoach subsidiaries have began operating many of the routes formerly operated by subcontractors, albeit with vehicles in full Scottish Citylink livery. Citylink frequencies and routes have also been sacrificed in favour of Megabus where the two brands overlap.
The Competition Commission ruled on 23 October 2006 that the joint venture substantially reduced competition and that evidence suggested some routes were already experiencing higher fares as a result.[18] Though no firm conclusion was drawn, regulators are to consult the two companies about what they need to do to comply with competition regulations and they have indicated that this will likely lead to the forced divestment of some services to an independent operator. The ruling was criticised by Stagecoach as leaving vital services in limbo and jeopardising Scotland's intercity coach network, making it unable to compete effectively with rail and private car journeys.[19]
One possible result of this ruling may be the return of National Express Group-operated express coach services on routes internally within Scotland, a move that would now be allowed following their loss of the Scotrail franchise to First Group in 2004.
Controversy
[
]
Competitive strategy
[
]
Controversy was never far from Stagecoach as it expanded its bus operations after deregulation. The company often found itself on the wrong side of the Competition Commission and faced sharp media criticism over its predatory approach to smaller operators. Bitter bus wars broke out in towns and cities throughout Britain as Stagecoach took on the local competition, often forcing the competitor to abandon traditional markets and sometimes causing the collapse of smaller operators. Practices included aggressive pricing and timing, running services outside of its registered routes, or registering routes to compete with other operators rather than serve the public interest. In its hometown of Perth, Stagecoach successfully forced the dominant operator Strathtay Scottish to abandon local services in the town. Similarly, Stagecoach subsidiary Bluebird Buses replaced Highland Scottish buses on most city services in and around Inverness, and Ribble Motor Services replaced the local operator in Lancaster. In 1994 Stagecoach attracted particular criticism for its involvement in the events of the Darlington Bus War, in which Stagecoach entered the Darlington bus market, leading to the eventual collapse of Darlington Transport. This would lead to an inquiry and subsequent reform in the regulatory framework for bus operation in the UK. Controversy also reappeared in 2005 in the Highlands when the Magicbus formulae was applied by Stagecoach East Scotland to minibuses as Magic Mini, to compete with Scotbus, with alleged aggressive behaviour by Stagecoach drivers, resulting in an arson fire at a Stagecoach East Scotland garage.[20] The company is currently engaged in a similar bus war with Preston bus.
Controversial chairman
[
]
The Stagecoach Group is controversial due to its chairman and co-founder, Brian Souter, who has received criticism regarding his business practices, certain public statements and his funding of a campaign to block the repeal the anti-gay Section 28 law. In 2000, OutRage! spokesman Peter Tatchell, called for a boycott of the bus and rail group.[21]
Passenger discrimination
[
]
In 2007 two gay teens in Aberdeenshire were threatened with being removed from the bus because one had his arm round the shoulders of the second; 'hug-in' protests around Scotland then followed from members of the Scottish Socialist Party and gay rights activists, calling on Stagecoach to apologise which they have as yet failed to do.[22][23]
See also
[
]
External links
[
]
References
[
]
Template:Commonscat
Stagecoach Group
United Kingdom bus companies

Stagecoach West Scotland

(

Western

,

A1 Service

,

Glasgow

)

 ·

Stagecoach East Scotland

(

Fife

,

Bluebird

,

Inverness

,

Perth

,

Strathtay

,

JW Coaches

)

 ·

Stagecoach North East

(

Newcastle

,

South Shields

,

Sunderland

,

Hartlepool

,

Teesside

)

 ·

Stagecoach North West

(

Cumbria

,

Lancaster

,

Lancashire

,

Network Chorley

)

 ·

Stagecoach Manchester

(

Manchester

,

Magicbus

)

 ·

Stagecoach Merseyside

(

Merseyside

)

 ·

Stagecoach Yorkshire

(

Yorkshire

,

Chesterfield

,

Sheffield

)

 ·

Stagecoach East Midlands

(

Bassetlaw

,

Mansfield

,

South Yorkshire

,

Grimsby-Cleethorpes

,

Hull

,

Lincolnshire

)

 ·

Stagecoach Warwickshire

(

Warwickshire

)

 ·

Stagecoach Oxfordshire

(

Oxfordshire

,

Brookes Bus

,

Oxford Tube

)

 ·

Stagecoach Cambridgeshire

(

Cambridgeshire

,

Peterborough

)

 ·

Stagecoach East

(

Northants

,

Bedford

)

 ·

Stagecoach West

(

Cheltenham

,

Swindon

,

Gloucester

,

Cotswolds

,

Wye and Dean

)

 ·

Stagecoach Wales

(

South Wales

)

 ·

Stagecoach South East

(

East Kent

,

East Sussex

,

Hastings

,

Portsmouth

,

South Downs

)

 ·

Stagecoach South

(

Hants and Surrey

,

Hampshire

,

Coastline

)

 ·

Stagecoach South West

(

Devon

)

 ·

Stagecoach Express

 ·

Scottish Citylink

(35%)

 ·

Megabus

UK railway companies
UK tram operations
Annual revenue: £2,176 million

GBP

Website: www.stagecoachgroup.com
Template:Bus transport in the United Kingdom