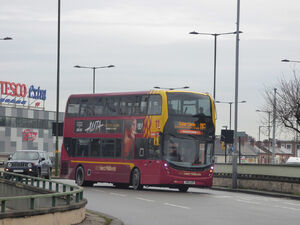 11 Outer Circle
Management
Operated by
National Express West Midlands
Garage
Acocks Green
Vehicle
Normally a Wright Eclipse Gemini
Peak vehicle requirement
19
Route
Start
Outer Circle of

Birmingham

Length
27 mile (43 km)
Service
Level
Daytime 05:00 - 00:00 7 days a week
Frequency
every 8-10 minutes Mon-Sat daytimes, . . . . 15 mins Sun daytime, 20 mins evenings
Journey time
2hrs and 20 minutes

The Birmingham Outer Circle is a roughly circular, 27 mile (43 km) bus route in Birmingham, England (a small section crosses into Sandwell). It follows the city's outer ring road, the A4040 road with some small deviations.
Buses on the Outer Circle travel both clockwise (service 11C) and anti-clockwise (11A). Operated by National Express West Midlands usually with new Wrightbus Volvo double decker buses. The number 11 is Europe's longest urban bus route and first came into existence in 1923. The route passes such landmarks as Cadbury in Bournville, one of the world's largest chocolate factory. The service is run commercially.
A full circuit takes 2hrs and 20 minutes to complete, and the service carries 50,000 passengers each day. There are 272 bus stops. The route serves 233 schools, colleges or university|universities, 69 leisure and community facilities, 40 pubs, 19 retail centres and 6 hospitals. It also links some 15 commercial centres.
The route is also traversed, annually, by a cavalcade of vintage buses.
History
[
]
The number 11 first came into existence as two routes in 1923: the no.10 ran from King's Heath to the King's Head (Hagley Road) via Cotteridge, and the no.11 from Six Ways Erdington to Acocks Green and Moseley. The route was first operated as a complete circuit on 26 April 1926, the idea being to better link the suburbs of Birmingham, as most routes at that time travelled in and out of the city.
The route was operated by Birmingham City Transport until the formation of WMPTE in 1969. In 1986 WMPTE's bus operations were taken over by West Midlands Travel who now operate as National Express West Midlands.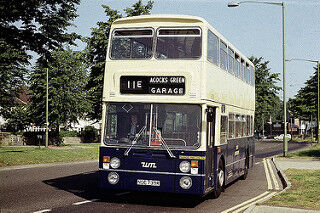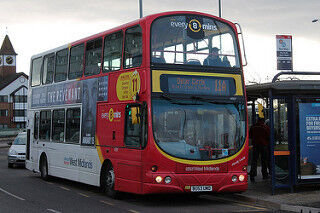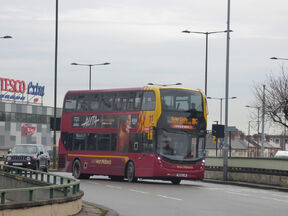 The A and C sufixes were introduced in 1975.
Route
[
]
(Clockwise from the A34 road, in the North of the city.)
Perry Barr
Witton (for Aston Villa)
Erdington
Ward End
Stechford
Yardley
Swan Shopping Centre at South Yardley, where the route crosses the A45 road from Birmingham to the National Exhibition Centre and Birmingham International Airport (UK)
Acocks Green (Passing Acocks Green Bus Garage)
Hall Green (for Sarehole Mill)
Billesley (Outskirts)
Kings Heath
Cotteridge
Bournville (for Cadbury World)
Selly Oak (for University of Birmingham and Selly Oak Hospital)
Harborne
Bearwood (in Sandwell)
Winson Green (for Birmingham (HM Prison) and Winson Green Outer Circle tram stop on the Midland Metro)
Handsworth
In pop culture
[
]
The Birmingham band Woodbine (band) eponymous 1999 album features the track "Outer Circle", a tribute to the bus route.
External links
[
]
Additional Photos
[
]
The UK Transport Wiki, your number 1 transport source has information related to: