See also the Bus Routes in London Wiki [1] which will have more detail about the subject.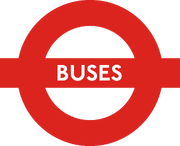 This is a list of Transport for London (TfL) contracted bus routes in London, United Kingdom, as well as commercial services that enter the Greater London area (except coaches). The major operators in the London area are Go-Ahead London, Arriva London, Metroline and Stagecoach London. Other operators in London are London United, Abellio London, Tower Transit, Metrobus, Arriva Shires & Essex, Arriva Southern Counties,Transdev London Sovereign, Quality Line, Abellio Surrey, CT Plus, First Berkshire & The Thames Valley, Uno, Carousel Buses, TWH Bus & Coach, Blue Triangle, Green Line Coaches, Sullivan Buses and Imperial Buses.
There are also several operators based outside London that run services either wholly or partly within the area. These services connect London with parts of Buckinghamshire, Essex, Hertfordshire, Berkshire, Kent, Surrey and Sussex.
Classification of route numbers
[
]
In Victorian times, passengers could only recognise the buses of different fleets and routes by the coaches' distinctive livery colours and line name, with painted signs on the sides showing the two termini to indicate the route. Then, in 1906, George Samuel Dicks of the London Motor Omnibus Company decided that, as the line name 'Vanguard' had proved to be very popular, he would name all lines 'Vanguard' and number the company's five different routes 1 through to 5. Other operators soon saw the advantage, in that a unique route number was easier for the travelling public to remember, and so the practice of using route numbers soon spread.[1]
Historic classification
[
]
Historically, bus routes run by London Transport were grouped by the type of service that they provided.
The 1924 London Traffic Act imposed a numbering scheme known as the Bassom Scheme, named after Chief Constable A.E. Bassom of the Metropolitan Police who devised it. Variant and short workings used letter suffixes. The numbers reflected the company that operated the route.
The numbering was revised in 1934 after London Transport was formed:[2]
| Route Number | Type of Service |
| --- | --- |
| 1–199 | "Central Area" red double-decker services |
| 200–289 | "Central Area" red single-decker services |
| 290–299[3] | "Central Area" night routes |
| 300–399 | "Country Area" north of the River Thames (rural services were operated by London Country Bus Services after 1970) |
| 400–499 | "Country Area" south of the River Thames |
| 500–699 | Trolleybuses |
| 701–799 | Green Line Coaches |
| 800–899 | "Country Area" "New Towns" routes |
Current classification
[
]
| Route Number | Type of Service |
| --- | --- |
| 1–599 | Day routes, including 24-hour services. |
| 600–699 | Schoolday services, normally operating only one return journey per day. |
| 700–899 | Not used for local bus services — numbers reserved for regional and national coach services. |
| 900–999 | Mobility Services, normally operating one returning journey per week. |
| N-prefixed routes | Night routes. |
| X-prefixed routes | Express routes. |
| Other letter-prefixed routes | Local day routes, including 24-hour services, with the letter(s) denoting the town the bus travels through. |
Key
[
]
 
24-hour bus services
 
24-hour bus services (Friday & Saturday only)
 
Route has variable final destinations or starting points
†
Transport for London services that cross the Greater London boundary.
Standard ticketing applies throughout.
List of routes
[
]
All routes operate in both directions unless detailed.
1–99

[

]
100–199

[

]
200–299

[

]
300–399

[

]
400–499

[

]
500–599

[

]
600–699
[
]
The majority of routes in this sequence are run for schools to reduce overcrowding on regular bus services. Their timetables are subject to short notice alteration and re-routing in accordance with school requirements. A notable exception is route 607, which is a limited stop service operating in West London, whose number is "inherited" from the period (15 November 1936 – 8 November 1960), when this route was served by trolleybuses.[4]
600–699

[

]
900–999

[

]
| Route | Start | End | Day of Operation | Operator |
| --- | --- | --- | --- | --- |
| 969 | Whitton Gladstone Road | Roehampton Vale | Tuesdays and Fridays only | Abellio London |
Letter prefixes

[

]
Night only routes (N-prefixed)

[

]
Other routes within the London area
[
]
These bus routes are operated with a London Service Permit issued by Transport for London, and are generally routes from towns just outside the Greater London boundary to destinations within. The exceptions are the 812, MB1 and 938, which run entirely within the boundary. Another exception is the 724, which although run by a coach company, it is a bus route. The 733 will run between Oval Station and Finsbury Square from January 17 2022 to at least mid-May 2022 due to the partial closure of the Northern line.
Coach services are not included in this list.
Route
Start
End
Operator
3 (Slough)
Slough
Uxbridge Station
First Berkshire
4 (Heathrow)
Heathrow Central
Maidenhead
First Berkshire
7 (Heathrow)
Slough
Heathrow Central
First Berkshire
8 (Heathrow)
Slough
Heathrow Terminal 5
First Berkshire
8 (Watford)
Abbots Langley
Mount Vernon Hospital
Arriva The Shires
10
Dedworth
Heathrow Terminal 5
First Berkshire
11
Eton Wick
Heathrow Terminal 5
First Berkshire
21
Crawley
Epsom Sainsbury's
Metrobus
32
Guildford Friary Bus Station
Redhill
Compass Buses (Mon to Sat)
Coaches Excetera (Sun)
66
Waltham Cross
Debden
EOS
78
Heathrow Terminal 5
Britwell
Burnham (late evenings/Sundays)
First Berkshire & The Thames Valley
84

New Barnet Station

St Albans St Peters Street
Metroline
101/102
Uxbridge Station (101)
Heathrow Central (102)
High Wycombe
Carousel Buses
105
Uxbridge Station
Hemel Hempstead
Carousel Buses
265
Brentwood Pilgrims Hatch
Lakeside
Amber Coaches
268 (School Journeys)
Brentwood
Grays
Amber Coaches
269
Brentwood
Grays
Amber Coaches
333
Chigwell Row
Debden Park High School
TWH Bus & Coach
402
Bromley North
Tunbridge Wells
Arriva Kent & Sussex
409

Caterham Valley

Selsdon
Metrobus
420
Sutton
Redhill/Whitebushes (Mon-Sat)
Metrobus
441
Heathrow Central
Englefield Green
Abellio Surrey
458
Kingston
Staines
Abellio Surrey
459
Kingston
Woking
Abellio Surrey
461
Kingston
Chertsey
Abellio Surrey
477
Bluewater
Orpington
Arriva Southern Counties
505

Chingford Station

Harlow
Arriva Shires & Essex
513
Kingston upon Thames
Byfleet/Downside
Abellio Surrey
514
Kingston upon Thames
Hersham
Abellio Surrey
515
Kingston upon Thames
Guildford
Abellio Surrey
515A
Kingston upon Thames
Guildford
Abellio Surrey
555
Harlow
Upshire
TWH Bus & Coach
555
Heathrow Central
Walton-on-Thames Station
Abellio Surrey
557
Hatton Cross
Woking
Abellio Surrey
575
Harlow
Romford The Brewery or Southend (Special Summer Journey's Only)
Go-Ahead London
581
Uxbridge Station
Higher Denham
Uxbridge Station (Some journeys)
Carousel Buses
582
Windsor

Denham Station

Carousel Buses
610
Enfield
Hatfield Business Park, Hertfordshire
Uno

614

Queensbury Station

Hatfield Business Park
Uno
615
Stanmore
Hatfield Business Park
Uno
644
Wembley Park
[Hatfield Business Park
Uno
655
Egham College
Sunbury Cross
Bear Buses
724
Harlow
Heathrow Terminal 5
Green Line Coaches
801
North Kingston
Hinchley Wood
Atbus
812
Hoxton
Clerkenwell
CT Plus
813
Feltham
Shepperton
Bear Buses
938
Bexleyheath
Erith Morrisons
Bexley Accessible Transport Scheme
A30
Uxbridge Station
Chesham
Carousel Buses
A40/740
Heathrow Central (A40)
Uxbridge Station (740)
High Wycombe
Carousel Buses
MB1
Dagenham Heathway
Dagenham Mecca Bingo
TWH Bus & Coach
R21
Mount Vernon Hospital
Uxbridge Station (only twice per day)
Maple Cross
Red Rose Travel
Former routes
[
]
This list shows some old routes that used to operate but do not exist anymore.
Route
Start
End
Date of launch
Date of withdrawal
Last operator
Replaced by
1A
Trafalgar Square
Greenwich
20 April 1984
1 November 1985
London Buses
1
2A
Baker Street Station
Crystal Palace
19 May 1954
29 January 1994
South London
2
2B
Baker Street Station
Crystal Palace
1956
1993
London Transport
3A
Brixton
Crystal Palace
27 February 1988
29 February 1992
South London Buses
3
5A
Clapham Common
North Cheam
1942
1951
London Transport
5B
Bloomsbury Red Lion Square
Becontree
1962
1968
London Transport
5C
Becontree Heath
Bloomsbury
1965
1968
South London Buses
6B
Willesden Bus Garage
Chingford
1964
1968
London Transport
9 (Heritage)
Trafalgar Square
Kensington High Street
14 November 2005
25 July 2014
Tower Transit
9A (1971)
Mortlake Bus Garage
Aldgate
1971
1981
London Transport
9A

Mortlake

Kensington

18 July 1992
7 March 1997
London United

209

10 (1950)
Victoria
Woodford Bridge
1950
1988
London Transport
10
Hammersmith
Kings Cross
13 August 1988
23 November 2018
London United
23
10A
Victoria
Aldgate
1972
1976
London Transport
10
11A
Victoria
Cannon Street Station
London General
12A
Peckham
East Croydon
1972
1990
London Transport
312
12B
Chipstead Valley
Forest Hill
1986
1990
London Transport
166
312
14A
Crouch End
Tottenham Court Road
1987
1992
London Northern
15B

East Ham

Aldgate

4 March 1989
18 September 1999
Stagecoach East London
115
16A
Brent Cross Shopping Centre

Marble Arch

31 January 1976
10 October 1997
Metroline
189
19A
Battersea Bridge
Tooting Bec
London Transport
20A
Leytonstone Green Man
Debden Broadway
1954
1982
London Transport
20B
Epping St Margarets Hospital
Buckhurst Hill Station
1965
1969
London Transport
21A
Woolwich
Farringham
1950
1984
London Transport
22A

London Bridge

Clapton Park Estate
28 October 1972
28 February 1998
Kentish Bus
149
242
22B
Piccadilly Circus

Homerton Hospital

22 November 1987
28 February 1998
Kentish Bus
242
23 (1950)
Becontree Heath
Oxford Circus
1950
1985
London Transport
23C
Creekmouth
Upton Park
25A
Little Heath
Stratford Broadway
7 May 1950
25 November 1958
26 (1959)
Aldgate
Leyton
19 August 1959
31 December 1966
262
26 (1970)
Barnet
Golders Green
13 June 1970
2 February 1991
84A
326
29B
Turnpike Lane Station
Potters Bar
10 October 1962
7 September 1968
298A
32 (1934)
St Helier Avenue
Worcester Park Station
3 October 1934
17 October 1956
34A
Walthamstow Central Station
Edmonton Park Road
19 November 1988
17 November 1989
London Transport
36A
Brockley Rise
Victoria Station
7 October 1951
27 April 1991
London Central
36B
Victoria Station

Grove Park

26 November 1958
12 March 1994
Selkent
136
38A
Victoria Station
Loughton Station
3 October 1934
7 September 1968
London Transport
38
20
48
39A
South Kensington Station
Putney Bridge Station
16 January 1971
28 October 1978
39
40A
Herne Hill Station
North Woolwich
27 January 1965
22 April 1978
London Transport
40
45A

South Kensington

Peckham Garage
10 November 1990
2 September 1995
London Central
345
48
London Bridge
Walthamstow Central
7 September 1968
12 October 2019
Arriva London
55
388
52A
Victoria Station
Westbourne Park Station
23 January 1966
31 December 1966
London Buses
52
292A
57A
South Croydon
Victoria
30 November 1955
28 October 1978
London Transport
58A
Canning Town
Walthamstow
19 November 1988
22 November 1991
London Transport
58
59 (1950)
West Hampstead
Chipstead Valley
1950
1978
London Transport
59 (1985)
Farringdon Street]]

Streatham Hill

Brixton Garage
2 February 1985
29 January 1994
South London
61B
Eltham Station
Chislehurst
16 August 1986
29 November 1986
London Transport
228A
228C
62A (1952)
Barking Station
Chigwell Row
14 May 1952
7 September 1968
62
62A (1987)
Barking Gascoigne Estate
Little Heath Haw Bush
14 November 1987
22 November 1991
London Transport
66A
Collier Row
Harold Hill
22 October 1952
18 July 1970
London Transport
68A

Elephant and Castle

South Croydon Garage
12 March 1994
27 March 1999
Arriva London
468
70 (1951)
Creekmouth
Upton Park
11 July 1951
19 November 1988
London Transport
P11
70A
Waterloo Station
Circular route via Peckham Rye
3 August 1985
19 November 1988
74B
Camden Town
Hammersmith
14 August 1963
28 October 1978
9
74
77A

Wandsworth

Aldwych

3 May 1950
3 June 2006
London General
87
77B
Euston
Wallington
14 June 1953
12 May 1973
London Transport
77
77C
Clapham Junction
John Paul II School
25 May 1991
2 September 2002
Go-Ahead London
79A
Edgware
Northolt Aiport
6 August 1952
21 November 1987
London Transport
79
80A
Morden Station
Walton-On-The-Hill
3 October 1934
24 April 1982
London Transport
81A
Hounslow Bus Station
Langley Fords
27 October 1943
22 August 1969
81B
London Airport Central
Hounslow Bus Station
19 May 1954
25 September 1970
82
81C
Slough Station
Heathrow Central
15 January 1968
18 April 1970
82 (1972)
Hounslow Bus Station
Hatton Cross Station
26 September 1970
3 September 1982
London Transport
202
83A (1937)
Golders Green
Kew Green
24 March 1937
6 October 1953
London Transport
83A (1969)
Wembley Empire Pool
Ealing Broadway
25 October 1969
15 May 1971
London Transport
83
84A
Turnpike Lane Station
Barnet Arkley Hotel
24 April 1982
27 January 1996
Cowie Leaside
184
85A
Putney Bridge Station
Roehampton Danebury Avenue
11 October 1961
25 April 1981
London Transport
170
86A
Limehouse
Corbets Tey
3 October 1934
19 August 1959
86
86B
Romford New Mill Inn
Harold Hill Myrtle Road
26 October 1949
11 October 1950
174
87 (1934)

Barking

Town Centre

Romford Market

3 October 1934
25 March 2006
Stagecoach London
5
89A
Woolwich
Lewisham
5 January 1955
7 January 1959
London Transport
192
90 (1934)
Kew Gardens Station
Staines
3 October 1934
4 September 1982
290
90A (1941)
Kew Gardens Station
Hayes End
19 February 1941
17 August 1948
90A (1955)
Kew Gardens Station
London Airport
4 May 1955
11 October 1961
London Transport
90A (1968)
Yeading White Hart
Hammersmith
7 September 1968
19 July 1969
London Transport
90B
290
90B
Kew Gardens Station
Yeading
1 July 1942
19 August 1989
London Transport
90
97A

Chingford Station

Walthamstow Central Station

31 January 1981
19 February 2000

First Capital

357
102A
Chingford Hatch
Golders Green
5 October 1958
23 January 1966
London Transport
357
104
North Finchley
Moorgate
31 January 1981
3 August 1985
17
43
108B

Chingford Station

Walthamstow Central Station

12 October 1960
9 November 1991
London Transport
115 (1937)
Wallington
Whyteleafe
8 May 1937
25 April 1981
London Transport
127
200
234A
289
115 (1984)

Balham

[Forest Hill]]
24 April 1984
29 April 1995
Cowie South London
315
P13
115A
Wallington
Croydon Airport
18 November 1964
28 October 1978
London Transport
115
115B
Wallington
Selsdon
31 December 1966
30 October 1970
115
234B
119A
Bromley North
Thornton Heath
31 October 1970
28 October 1978
London Transport
119
119B
Bromley North
Thornton Heath
31 October 1970
28 October 1978
119
122A
Woolwich
Erith
21 February 1971
16 January 1988
422
B12
124A
Forest Hill
Bexley Hospital
15 May 1960
2 November 1985
London Transport
124
124S
Catford Bus Garage
Welling Springfield Road
3 February 1990
3 January 1994
Selkent
124
127 (1941)
Morden
South Wimbledon
22 January 1941
20 August 1958
London Transport
127A
Streatham Hill
South Croydon
4 February 1984
24 June 1989
127
128 (1941)
Chase Farm Hospital
Lower Edmonton Station
13 August 1941
14 June 1969
W8
128 (1977)
Ruislip Station
Harefield Hospital
1977
17 August 1991
R1
U1
129 (1939)

Becontree Heath

Claybury Broadway
7 June 1939
26 June 2004
East Thames Buses
128
150
135 (1987)

Archway Station

Marble Arch

21 November 1987
2 September 2000
Metroline
88
137A

Crystal Palace

Clapham Common

2 February 1991
18 September 1999
Arriva London
417
143A
Brent Cross Shopping Centre
Archway Station
2 February 1991
20 July 1996
Metrobus
144A
Muswell Hill Broadway
Edmonton Green Station
4 September 1982
17 September 1994
Metrobus
161A

Petts Wood Station

Woolwich

6 May 1953
12 March 1994
Selkent
162
171A

County Hall

Northumberland Park

Tesco's
1 February 1986
17 October 1998
Arriva London
341
184 (1951)

New Cross

Trafalgar Square

7 October 1951
12 March 1994
London Central
197
Peckham
Croydon
3 October 1934
27 February 2021
London General
205 (1984)
Park Royal ASDA
St Raphael's
2 June 1984
14 October 1995
Metroline
PR2
207A

Uxbridge Station

Charville Lane Estate
21 July 1990
13 November 1999
First Centrewest
U7
218
Kingston
Staines
3 October 1934
28 August 2010
Hallmark Connections
228 (1934)

Chislehurst

Eltham

3 October 1934
7 September 1996
Kentish Bus
160
321
235 (1968)

Leytonstone Station

Woodford Wells

7 September 1968
26 July 1996

Grey Green

W13
239
Clapham Junction
Victoria
12 May 1990
15 February 2008
Go-Ahead London
170
243A

Wood Green

Liverpool Street
19 July 1961
19 August 2000
Arriva London
243
246 (1951)
Eastern Avenue

Mawney Road

Carnham Moor LaneCorbets Tey
7 September 1968
28 September 1996
First Centrewest
255 (1988)
West Croydon
Roundshaw

Wallington

12 September 1988
28 September 1996
Stagecoach London
272 (1974)

Woolwich

Thamesmead

30 November 1974
23 January 1999
Kentish Bus
244
472
274 (1968)
Ealing Broadway Station
Hayes Station
30 November 1968
21 July 1990
Centrewest
E6
E7
278 (1994)
Lewisham Station
Kidbrooke Ferrier Estate
8 October 1994
23 January 2004
London Central
178
304 (1993)
Park Royal ASDA
Queensbury Station

Wembley Arena

9 April 1993
26 March 1995
London Buslines
305
Kingsbury Circle
Edgware Station
3 July 1993
31 August 2018
Arriva London
303
306 (1992)

Crystal Palace

Blackheath

20 June 1992
28 September 1996
Stagecoach Selkent
202
351

Bromley North Station

Penge

2 March 1991
24 June 2002
Metrobus
354
354 (1986)

Bromley North Station

Croydon

16 August 1986
19 May 2000
Metrobus
314
T33
357

Croydon

Orpington

1983
1995
Metrobus
353
354 (1986)
369

Ilford

Thames View Estate

20 March 1993
20 February 2010
Stagecoach London
EL1
EL2
374

Romford

Harold Hill

20 March 1993
15 October 2005
Stagecoach London
174
393 (1989)

Hackbridge

Morden Station
25 February 1989
23 November 1996
London General
80
151
395

Limehouse

Surrey Quays

9 October 1999
29 April 2006

First Capital

403
Warlingham
West Croydon
9 August 1986
27 February 2021
London General
264
312
435

Southall

Town Hall

Heathrow Airport

Cargo Area
25 June 2005
22 March 2008

First Centrewest

482
494
West Croydon to Wimbledon Line Bus Station

Shirley

Monks Orchard
10 June 2000
11 June 2005
Metrobus
367
501
Waterloo

London Bridge

9 September 1968
31 May 2002
London General (Red Arrow)
521
505
Waterloo

Shoreditch

4 March 1989
19 August 2000
London General (Red Arrow)
35
243
508
Wanstead Park
Stratford City
9 January 2016
12 February 2016
Tower Transit
518
Streatham Station
Streatham Common Station
12 January 2013
7 May 2013
Abellio London
523
Preston Road Station
South Kenton Grasmere Avenue
15 August 2005
17 February 2006
First London
528
West Middlesex Hospital
Osterley Library
5 January 2015
6 May 2015
Abellio London
530
Holloway Nags Head
Islington Angel
16 August 2017
29 October 2017
Go-Ahead London
541
Keir Hardie Estate
Prince Regent
3 May 2011
19 February 2016
Stagecoach London
545
Brixton Station
Camberwell Green
23 February 2010
23 March 2010
Abellio London
558
Seven Sisters
Chingford Mount
10 August 2015
29 August 2015
Metroline
560
Pollard Hill Ivy Gardens
Streatham Common
3 November 2012
23 February 2013
Quality Line
563
Upper Holloway Whittington Park
Holloway Nags Head
22 October 2016
16 January 2017
Go-Ahead London
565
Kingston
Ham
1 August 2016
3 September 2016
London United
571
Kingston
Ham
1 August 2016
3 September 2016
London United
572
Kingston
Ham
1 August 2016
3 September 2016
London United
604

West Norwood

Stanley Technical High School

5 September 2005
20 July 2007
Arriva London
609 (1993)
Mortlake High Street
Bank
25 October 1993
24 June 1994
609 (1999)
Hammersmith
Mortlake
30 October 1999
18 May 2019
Metroline
618
Mill Hill Broadway
Avanti House School
31 October 2015
3 April 2018
Transdev London Sovereign
619
Edgware Station
Avanti House School
31 October 2015
3 April 2018
Transdev London Sovereign
620

Biggin Hill Valley

Charles Darwin School

5 January 2002
21 July 2006
Metrobus

664

630

New Addington

All Saints Catholic School

20 July 2007
Stagecoach London
689

Clapham Common

West Norwood

2 September 2011
Arriva London
726

Bromley South Station

Heathrow Airport

16 Apr 2005

Tellings Golden Miller

X26
746

Bromley

Tunbridge Wells

1994
1995
Metrobus
402
805

Heathrow Airport

Northolt

25 June 2005
Bharat Travel
435
917
South Croydon
West Croydon
22 June 2011
Abellio London
64
T33
941

Bedfont Green

Hampton Hill

29 February 2012
Abellio London
953
Scrattons Farm

Chase Cross

7 November 2012

First Capital

958

Ilford

Hainualt Street

Woodford

King's Avenue
26 July 2011

First Capital

972

Neasden

Birchen Grove

Colindale

ASDA
22 October 2010
First Centrewest
324
980

Colindale

Brent Cross Shopping Centre
31 July 1991
C2
Oxford Circus
Parliament Hill Fields
24 March 1987
30 March 2019
Abellio London
E4 (1984)
Chiswick Grove Park Hotel
Park Royal ASDA
2 June 1984
8 November 1991
London United
E4
Windmill Park

Perivale

27 March 1993
24 May 1997
Centrewest
ELC
New Cross Gate Station
Canada Water Station
23 December 2007
26 September 2009
Travel London
ELP
Canada Water Station
Rotherhithe Station
23 December 2007
24 February 2008
Travel London
ELS
Whitechapel Station
Shoreditch Station
10 June 2006
19 July 2008
Travel London
ELW
Shoreditch Station
Wapping Station
23 December 2007
9 May 2010
First London
H1 (1969)
South Harrow Station

Rayners Lane Station

Northwick Park Hospital
14 June 1969
13 November 1987
H1

Golders Green

Henrietta Barnett School

18 May 2013
Arriva Shires & Essex
631
H15
Harrow Weald Oxhey Lane
Northwick Park Hospital
14 November 1987
4 September 1999
Metroline
182
H21

Bedfont Green

Sunbury

Tesco
22 January 2000
2 December 2005

Tellings Golden Miller

H23

Heathrow Airport

Cargo Area

Hounslow

Bus Station
28 April 1990
22 March 2008
London United
423
H30
Hatton Cross Station
Heathrow Central Bus Station
1 November 1998
1 May 2004
Airlinks
H24
Hatton Cross Station
Feltham Station
29 September 1990
27 August 1993
London United
H27
Ashford Common
Feltham Station
2 December 1995
29 August 1998
London & Country
H29
Osterley Tesco
Circular route via Brentford & Kew Bridge
10 August 1996
23 June 2000
London & Country
H30
Hatton Cross Station
Heathrow Central Bus Station
1 November 1998
1 May 2004
Airlinks
H40

Chiswick

Grove Park

Park Royal

Asda
9 November 1991
26 May 2002
London United
272
440
H50

Hayes & Harlington Station

West Drayton

3 February 2001
22 March 2008
Travel London
350
K6

Kingston

Roehampton Vale

ASDA
2 December 1989
25 July 1998
Westlink
485
K50
Chessington
Kingston
P2
Peckham, Bus Garage

Lewisham Shopping Centre

1992
1994
London Central
484
P13
PR1

Ealing Broadway Station

Willesden Junction Station

24 March 2007

First Centrewest

226


PR2
PR2

Wembley Park

The Paddocks

Willesden Junction Station

15 October 2011

First Centrewest

206


224

R62

Hampton

Sainsbury's

West Middlesex Hospital

1992
6 May 2006

Tellings Golden Miller

481
R69

Richmond

Hammersmith

Bus Station"
7 April 1990
11 November 2000
London United
419
RV1
Covent Garden
Tower Gateway
27 April 2002
11 November 2000
Tower Transit
343
S2

Stratford

Clapton

Nightingale Road
5 July 2008

First Capital

425
488
T4
Feltham Station
Heathrow Airport Terminal 4
29 March 1999
23 June 2001
T31
Forestdale
New Addington Homestead Way
12 May 2007
23 October 2015
Arriva London
64
130
353
T32
Addington Village Interchange
New Addington Parkway
11 May 2000
23 October 2015
Metrobus
64

130

T33
Addington Village Interchange
West Croydon
20 May 2005
23 October 2015
Abellio London
433
T123
Feltham Station
Heathrow Central
29 March 1999
30 November 2001
London United
285
TL1
West Croydon
Wimbledon
2 June 1997
31 May 2000
Metrobus
U5 (1989)
Uxbridge Station
West Drayton Station

Stockley Business Park

Heathrow Central

27 May 1989
30 August 1996
Uxbridge Buses
U1

A10

U6
Hayes & Harlington Station
West Drayton Station
10 June 1991
30 August 1996
Uxbridge Buses
H50
U8
Uxbridge Station
Harefield Hospital
18 August 1991
23 June 1993
U2
W10
Crews Hill Golf Ride
Enfield Town
1 February 1992
13 March 2021
London General
456
N10

King's Cross

Richmond

29 September 2001
30 January 2010

First Centrewest

10
33
N25

Oxford Circus

Harold Hill

15 July 1995
26 June 2004

First Capital

25
N8
N86
N50
Gallions Reach

Trafalgar Square

30 June 1995
30 August 2008
Stagecoach London
N550
N551
N52
Victoria Station

Willesden

3 December 1993
8 December 2012
Metroline
52
N75

Croydon

Lewisham

19 May 2007
Stagecoach London
N77

Tolworth

Aldwych

19 August 1995
3 June 2006
London General
N87


281

N81
Victoria

Bexleyheath

28 June 2002
London Central
N89
N84

Trafalgar Square

New Cross Gate

27 February 2001
London Central
N343
N159

New Addington

Marble Arch

28 August 2010
Arriva London
159


N64


N109
N213

West Croydon

Kingston

4 July 2009
Go-Ahead London
213
See also
[
]
|55 (1843) |Blackfriars |Leyton, Dalston Junction, Debden, Barnet The Drawer, Archway
References
[
]
Bibliography
[
]
External links
[
]