The British Rail class 121 is a single car diesel multiple unit built by the Pressed Steel Company in 1960. Nicknamed 'Bubble cars' by railway enthusiasts, it was the oldest serving DMU in Britain; running for 57 years. It has slam doors and vacuum brakes, both archetypal attributes to British Railways DMUs and ran in the BR Western Region and on Network SouthEast during its lifetime.
- By Oxyman - Own work, CC BY 2.5, https://commons.wikimedia.org/w/index.php?curid=2099299
Early life
The units first entered service on the BR Western Region; replacing the older GWR 14xx and Pannier steam locomotives. Class 121s were typically seen working on the Bridport line, the Severn Beach line, the Greenford Line and the Looe Valley Line. All class 121s were painted in BR livery (some with speed whiskers) and most preserved units retain this colour scheme.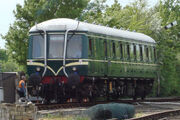 Modern Usage
During the reign of Network SouthEast, class 121s were seen working in the Chiltern sections; most notably, the Aylesbury to Princes Risborough line. These units were repainted again into Network SouthEast livery. Although units on the Aylesbury - Princes Risborough line were retained, many other units found work as departmental class 960s for Railtrack and Chiltern Railways.